We would all like it if our business ran as smooth as possible but there are times when you need to cater for situations that are outside of our control. While customers would normally make bookings prior to the session time commencing (future booking) in some situations we need to cater for booking historically. To cater for these situations, you need to have the ability to make a booking/payment for a time in the past (historical booking).
Some examples on when you might need to make a historic booking:
A customer attended a session without a prior booking
A walk-up customer is running late and needs to be booked into a session that has already commenced
A term events that runs across multiple weeks has already commenced and a customer wants to book in after the term has started
To cater for these situations a business user can make a historical booking form the business dashboard. Configuring the account to allow for historical bookings enables the business to make bookings from their dashboard up to 3 months in the past.
Configuring historical bookings
Login to your account using
From your business dashboard select Settings > Advanced Settings
Select the Enable Historical Bookings
Select Save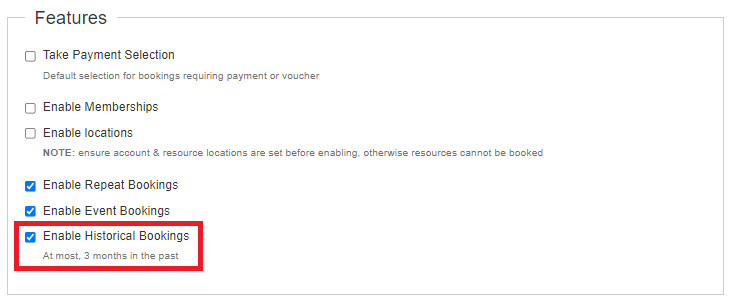 Adding a historical bookings
Using the booking functionality on the business dashboard select or add a client and make a booking as per normal booking process
The booking times will show all time available for today and into the future
Use the date selector to select a date in the past
Complete the booking process